Aiken…
is full of incredibly talented entrepreneurs with vision. These visionaries are clever, creative and they're investing in Aiken's future. As a result, there are some exciting small businesses opening in Aiken, and we're proud to support them.
Let's take a look at five impressive, up-and-coming businesses in Aiken right now:
419Hayne
ADDRESS: 419 Hayne Ave, Aiken SC
EMAIL: studiosonhayne@outlook.com
CONTACT: Caroline Garcia
PHONE: (803) 761-2980
Located in the heart of downtown Aiken, 419Hayne is offering the best in luxury accommodations. Four suites, each with a name and personality of its own, features unique art, cozy furnishings and top of the line decor hand picked by one of Aiken's local interior designers. Each suite has a king sized bedroom, living room with sofa bed, kitchenette with small refrigerator, microwave, Keurig coffee maker/pods and dinnerware. Perfect for equine enthusiasts, corporate travelers and tourists exploring Aiken. These suites are impeccably clean, comfortable and luxurious…you won't want to leave!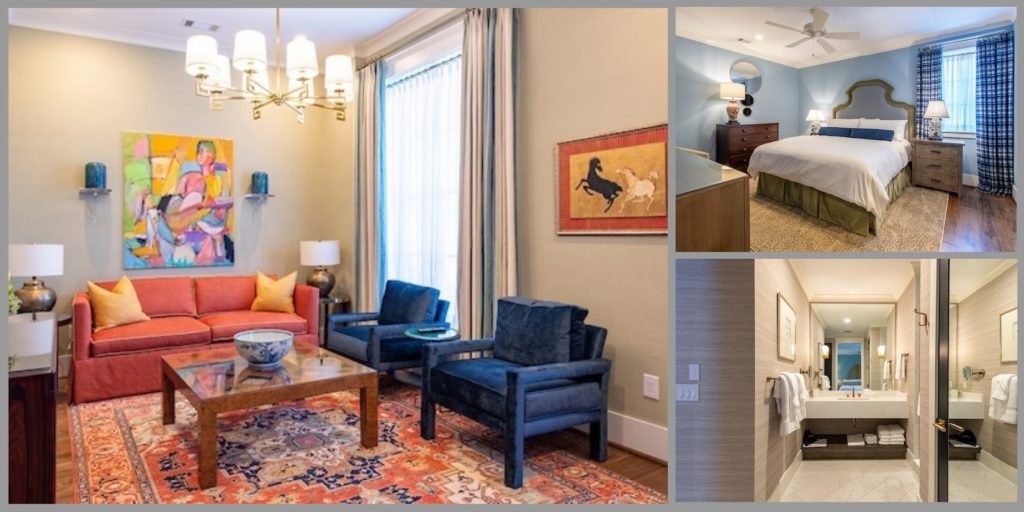 "This rental was absolute perfection! The whole process was a breeze and communication was exceptionally quick. The location is excellent for a quick walk to shopping and restaurants downtown. The unit was styled perfectly and the linens were so soft we wanted to take them home. Nothing was out of place and every inch was spotless. We can't wait to stay here again!"
For more information, check out 419Hayne on Facebook, follow on Instagram @419hayne or book one of the 419Hayne suites directly on AirBnB.
---
Blue Collard Catering
ADDRESS: 113 Waterloo St, Aiken SC
EMAIL: bluecollardaiken@gmail.com
CONTACT: Christian Carlisle
PHONE: (803) 679-0115
Blue Collard offers a take out market, as well as custom catering services. The market is open Monday through Friday – 10 am to 6 pm, on Saturday – 10 am to 2 pm, and is closed on Sunday.
The market offers a selection of freshly prepared, excellent quality, reasonably priced meals that can be complemented with salads, snacks, and sweets and fits a wide variety of dietary restrictions and taste. Whether you're serving a busy family or a quiet dinner for one or two, the Blue Collard market is the perfect solution.
Blue Collard Catering creates custom, personalized menus based on the customer's vision. At Blue Collard, each catered event, no matter how big or small, is given a personal touch to make it special. From professional business meetings and workplace team building, weddings, showers, holidays, bereavement, birthdays, anniversaries, and all social gatherings, Blue Collard can do it all!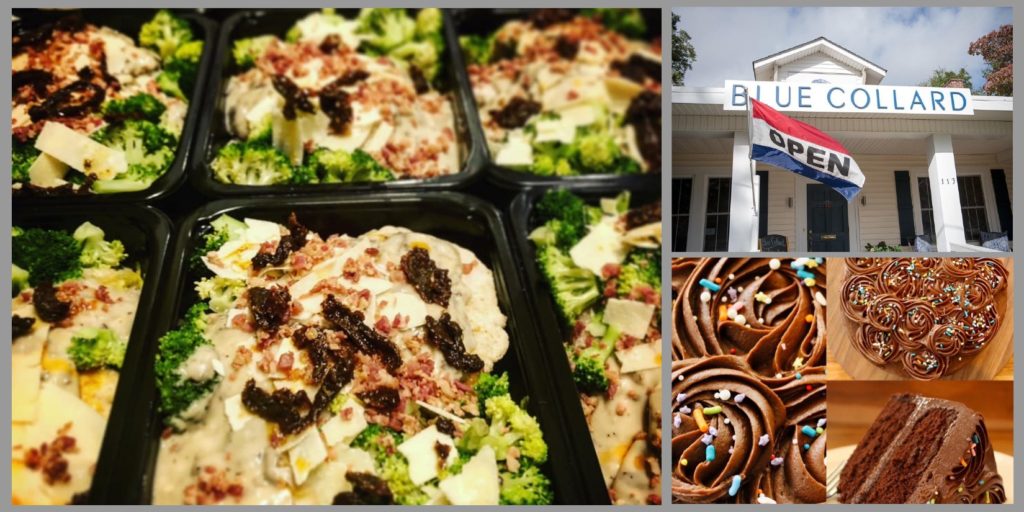 "What an absolute pleasure hiring Christian and team. Their creativity, professionalism and passion for what they love to do are all just icing on the cake for the INCREDIBLE food they serve. Can't wait to hire again, again and again! Thank you Blue Collard!!"
You may order directly from Blue Collard's website, like them on Facebook, or follow them on Instagram @bluecollardaiken.
---
Ginger Bee Boutique
ADDRESS: 110 Laurens St SW, Aiken SC
EMAIL: gingerbeeboutique@gmail.com

CONTACT: Brooke Thomas
PHONE: (803) 226-0340
Ginger Bee Boutique is a brand new retail store in downtown Aiken. Owner Brooke Thomas, a self taught jewelry maker, saved money from her successful jewelry business (also named Ginger Bee) to launch the new store on Laurens Street. This fresh, fun, sophisticated store features women's clothing, shoes, jewelry and more. Date night? They've got you covered with a classic look with pops of bold color. Beach weekend? You'll definitely find the perfect cute sundress. Casual clothes to hang out in? They've got cool graphic tees you're going to love. Don't forget the jewelry…life's too short to wear boring jewelry!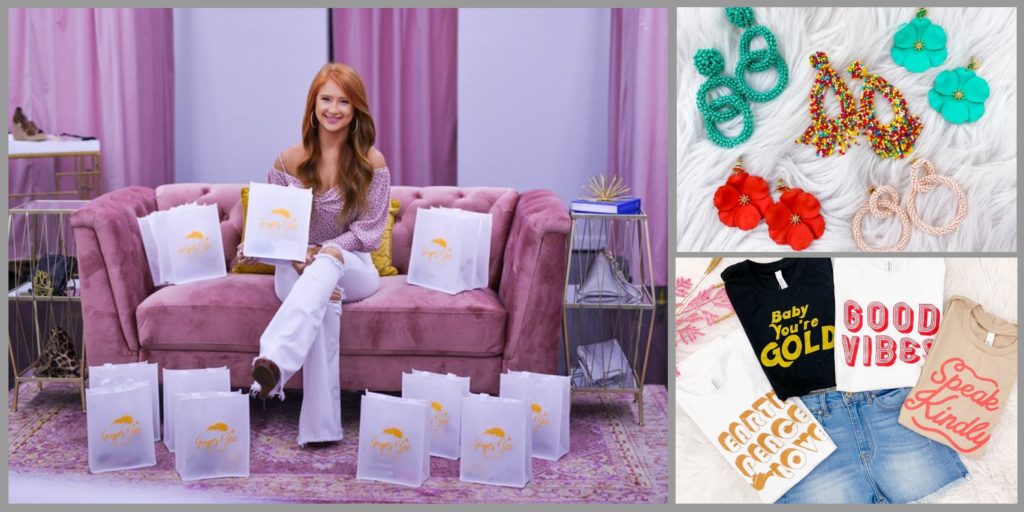 "Super cute boutique in Downtown Aiken. Great prices and super sweet owner. Will definitely be visiting again!"
Like Ginger Bee Boutique on Facebook, and follow on Instagram @gingerbeeboutique.
---
Board in Aiken
EMAIL: boardinaiken@gmail.com

CONTACT: Ashley Elvis & Casey Young
PHONE: (803) 646-8630
Ashley and Casey are friends, mothers of young boys, and business partners living and working in Aiken. The owners of Board in Aiken, they have created a sensational business creating charcuterie boards, dessert boards, fruit boards, sandwich boards, s'mores boards…you name it…they can put it on a board and make it beautiful! No two boards are built alike. Ashley and Casey often feature local, in season ingredients, and their boards are made fresh on the day they are served. Both delivery and pick up options are available, in and around the Aiken area. Perfect for parties, casual get-togethers, family movie night, or trips to the pool or beach. Board in Aiken can also do grazing tables for large scale events and custom boards – think brunch and Bloody Mary boards. Their work is creative, enticing and delicious!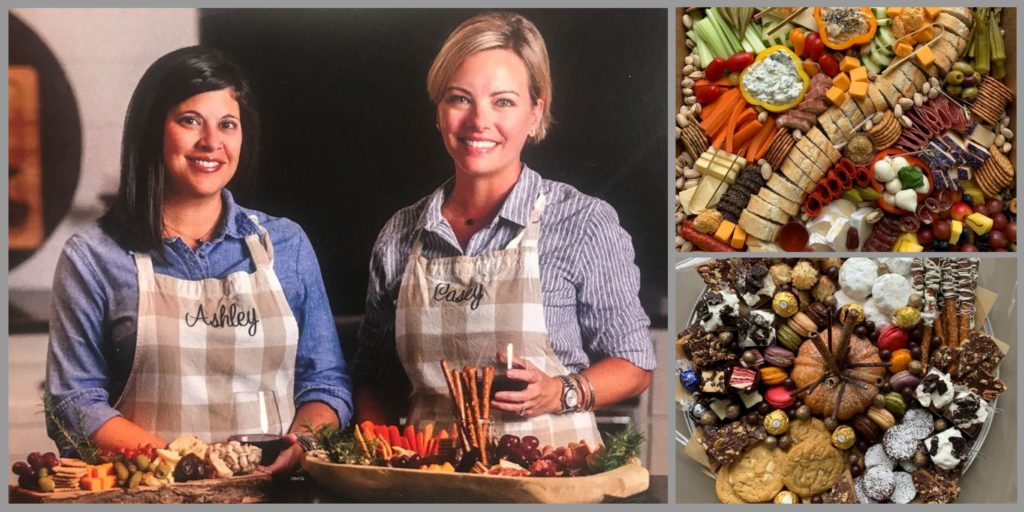 I ordered a board for a birthday party. Everything was deliciously wonderful! Beautiful presentation!! Thank you Ladies!!!
Order a board directly from their website, like Board in Aiken on Facebook, and follow them on Instagram @boardinaiken.
---
Haus Studio
ADDRESS: 345 Hayne Ave, SW Aiken SC
EMAIL: hausstudiointeriors@gmail.com
CONTACT: Christina Neuhaus Thieme
PHONE: (803) 226-0470
I began following Haus Studio on social media and have become enamored with owner Christina Neuhaus Thieme's design aesthetic. The studio, conveniently located in downtown Aiken, is an interior design /architecture firm / fine art gallery. Haus Studio offers full architectural services with an in-house architect plus complete interior design services- focusing on renovation, kitchen design and new home design. Haus Studio also carries a carefully curated selection of global finds, fine art, jewelry and equestrian gifts. Whether you need a few hours of design consultation services, or to generate a project's full scope of design, Christina is up to the challenge.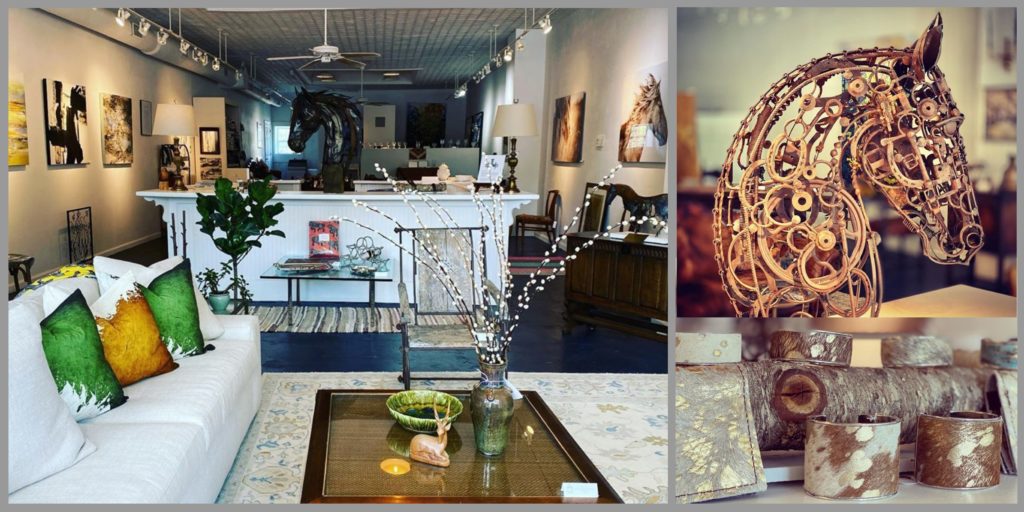 Full service interior and architectural design in one location. Old world tradition blended with modern form and function. What a dynamic pair of owners!
Visit Haus Studio's website for more information. Like them on Facebook and follow on Instagram @hausstudiointeriors
---
Starting and running…
a small business is challenging. It requires hard work, tremendous effort and courage. Please do your best to support these amazing, creative people and their businesses as they work to make Aiken a better place to play, work and live. They need our support to stay in business!
How?
Share their information with friends and family. Follow them on social media. Comment on their posts, leave them reviews. If you have feedback that may help them, share it with the business owner first, before writing a negative review. Patronize their businesses whenever possible.
Get involved!
Do you know a small business owner in Aiken who deserves a feature on our site? Maybe you've used one of the businesses above and want to leave a review here. We welcome comments and suggestions! #bestlifeaiken