Aiken Living…
is all about the positive things happening in Aiken, and its surrounding areas. Kind people, neat places, special events, random acts of kindness…Aiken Living. This week, there's a good feel in the air. It's cooler, which means more time outside, enjoying the best of Aiken.
Here's Aiken Living.
50th Anniversary of Hopelands Gardens and Rye Patch
50 years ago, Hopelands Gardens was donated to the City of Aiken. This 14 acre estate property in the midst of downtown Aiken is a very special place. The Gardens are free and open to the public daily from 10 a.m. to sunset. Visit the Birds and Butterfly Garden; the Labyrinth; the Aiken Thoroughbred Racing Hall of Fame and Museum; the Carriage Museum; the Historic Horses of Aiken; the Doll House, home of the Garden Club Council of Aiken, as well as the beautiful 100-year-old live oaks, fountains, reflection pool, camellias, and magnolias.
Here's a brief video about the anniversary, narrated by Aiken's Mayor Rick Osbon.
Click here to learn more about Hopelands. If you haven't yet visited this magical place, now's the time!
---
Juniper's Community Table
Juniper is a wonderfully quirky, farm to table restaurant in Ridge Spring, South Carolina. Owners Brandon and Jeanne Velie opened Juniper 15 years ago. Faced with the current challenges of the pandemic, Juniper is now open for to-go orders only. This has cut business significantly, leaving them with an abundance of fresh produce. The Velie's answer? Start a Community Table where anyone may take what they need. Local farmers and growers like Titan Farms, Organically Roland, and Warbler Creek Farm, along with a slew of individual farmers have participated in the program, donating peaches, fresh eggs, sweet potatoes, tomatoes, blueberries, beets, cabbages…whatever is in season. We are grateful to Juniper, and all those who have participated in #takewhatyouneed Community Table.
You've made the world a better place.
Follow Juniper on Facebook and keep up with their fantastic take out menu. Read this article to learn more about the #takewhatyouneed movement.
---
Aiken Music Fest
Are you ready for some live music? Bring your chairs, blanket, and cooler to Highfields Event Center, a six acre field within a 52 acre venue— the perfect place to enjoy live music, while still staying as socially distant as your comfort level allows. Food trucks and beer are available, or bring your own!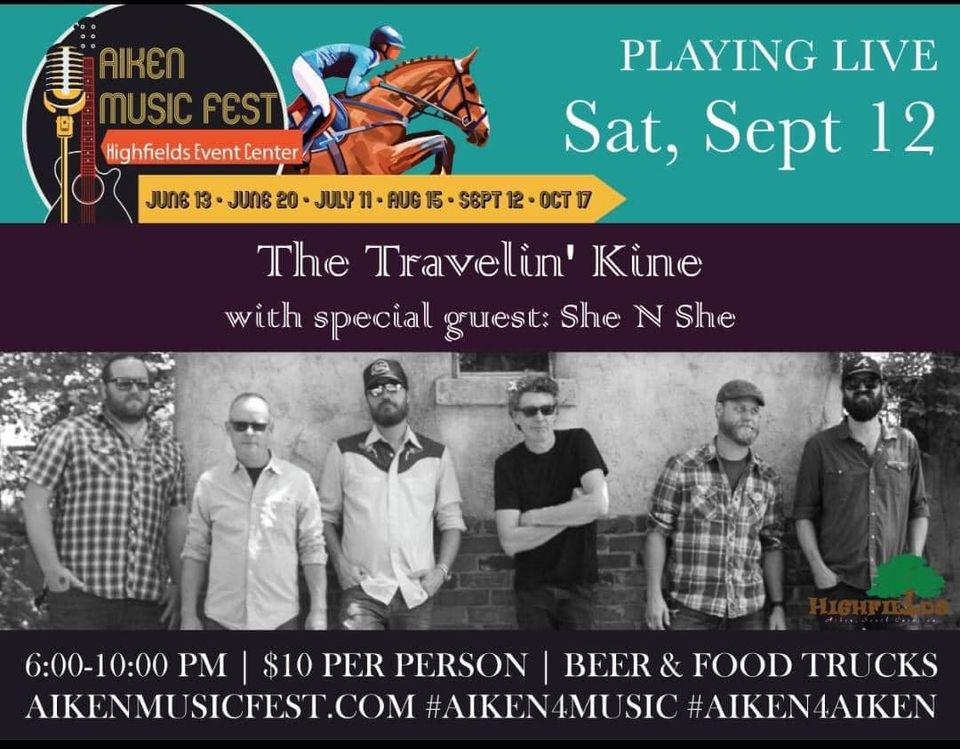 Visit Aiken Music Fest online for more information and tickets. Thanks to Aiken Music Fest for persisting in bringing live music and (socially responsible) fun to Aiken. Let's get out there and support Aiken Music Fest!
Now it's your turn…
We'd love to hear your suggestions for our next Aiken Living; businesses to feature, good news and happenings to report. If you know about someone making a positive change in Aiken, let us know. We're all about focusing on what makes Aiken a special place to live, work and play. If you'd like to learn more about our team, click here.
Send me an email at robyn@bestlifeaiken.com or drop a comment below. Thanks for reading!