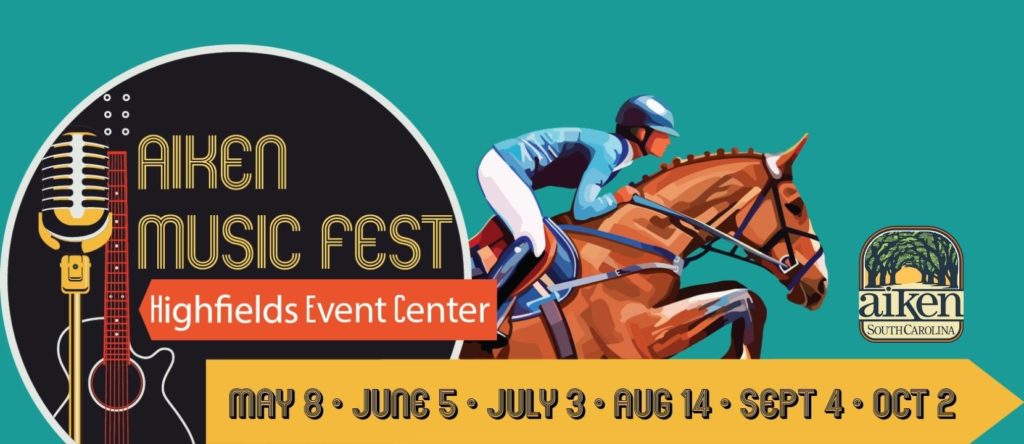 Aiken Music Fest is a six event series on Saturday nights from 6-10 pm at Highfields Event Center. Each event will feature a top local talent followed by a local headliner band with original material currently touring the southeast. We bring the greater Aiken community together for a day of family-friendly fun and music in an idyllic outdoor concert setting!
Here are the details:
You can get tickets at the gate. We have a huge 6 acre field and lots of space to spread out – so we don't "sell out". (Although, one day, we hope to!) $15. If you want to use a CC, you can buy your tickets on line at AikenMusicFest.Com or go to the Facebook event and buy tickets there. You can even take that action at the gate! Children under 12 are free.
Tailgates are welcome. (We have beer and wine available plus a food truck at every event. So, it isn't necessary.) You can set up your tailgate area or it is an easy short stroll back to your car. BYO chairs. There are a few chairs and tables available under the Pavilion. Lawns games are encouraged. Well managed pets are welcome. Children will find lots of activities to keep them entertained.
Aiken County Crafters have great vendors at every show.
Highfields Event Center has the best sunsets and there is a breeze blowing across the field on even the hottest evenings. In the event of rain, the Pavilion can hold a lot of people and the show goes on – unless conditions are hazardous.
Starting this year, make Aiken a destination and camp out at Highfield's for Aiken Music Fest! For $25 a night per camper it's the perfect way to make a weekend of it!