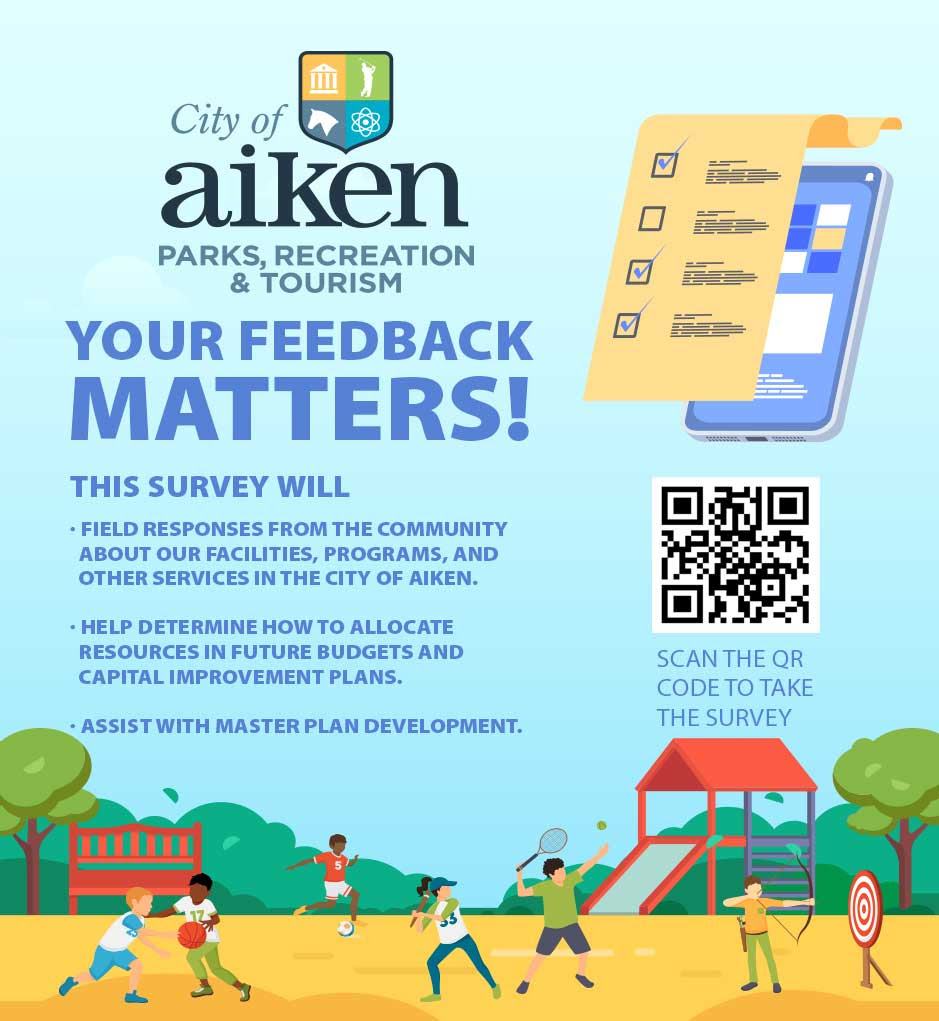 Aiken Parks, Recreation & Tourism Survey
Dear Community Member,
As you now may know, the Parks, Recreation and Tourism Department is undertaking the process to develop an updated Master Plan, starting first with a Needs Assessment. Conducted through our contracted partner, Clemson University Department of Parks, Recreation and Tourism Management, Dr. Bob Brookover has helped us develop a survey to field responses from the community about our facilities, programs, and other services in the City of Aiken.
Designed to take less than 15 minutes, the survey link is open as of September 27th, 2021 and will remain live until at least October 22nd, 2021, provided a useful data set is gathered. Please use this link to access the survey directly: https://www.cityofaikensc.gov/prtnas
Additionally, Dr. Bob Brookover will facilitate Focus Group and Public Input Sessions in Aiken on Tuesday, November 9th, in which community involvement will be requested. Select times have not been set, however information will be shared within the coming weeks.
The goal of the Needs Assessment and overall Master Plan process is to translate the feedback of the community to PRT as it operates today and guide it in the future to meet the demands it faces. The information gathered will aide decisions allocating resources in future budgets and capital improvement plans. Data and recommendations will be presented to Aiken City Council and made available to the public at conclusion of the process.
In support of the City of Aiken, we invite you to fill out the survey for your household, and help us in dispersing it as widely as possibly. At this stage in the process we want as many responses as we can get, to maximize the data set's viability and community engagement with an awareness of the Master Plan development. Thank you in advance for any assistance you can provide us in those goals.
Jessica Campbell, MSML, CPRP
City of Aiken |Director of Parks, Recreation & Tourism
PRT Admin. Office: (803) 643-4779
1072 Banks Mill Road
jcampbell@cityofaikensc.gov
www.cityofaikensc.gov
Friend us at fb.me/AikenParksRec
Best Life Aiken
The Best Life Aiken Team is here to help you learn more about Aiken, its programs and real estate opportunities. Reach out to us today!