December 2018 Market Report
Nationwide, home prices were consistently up again in most markets in 2018 but at reduced
levels compared to recent years. High demand for few homes for sale fueled price
increases, but evidence is mounting that inventory will finally improve in 2019. This
may apply some downward pressure on prices for beleaguered home buyers.
Unemployment rates remained remarkably low again in 2018, and wages continued
to improve for many U.S. households. It is generally positive for all parties involved in
real estate transactions when wages grow.
Aiken's Market
To view the report in its entirety, click here.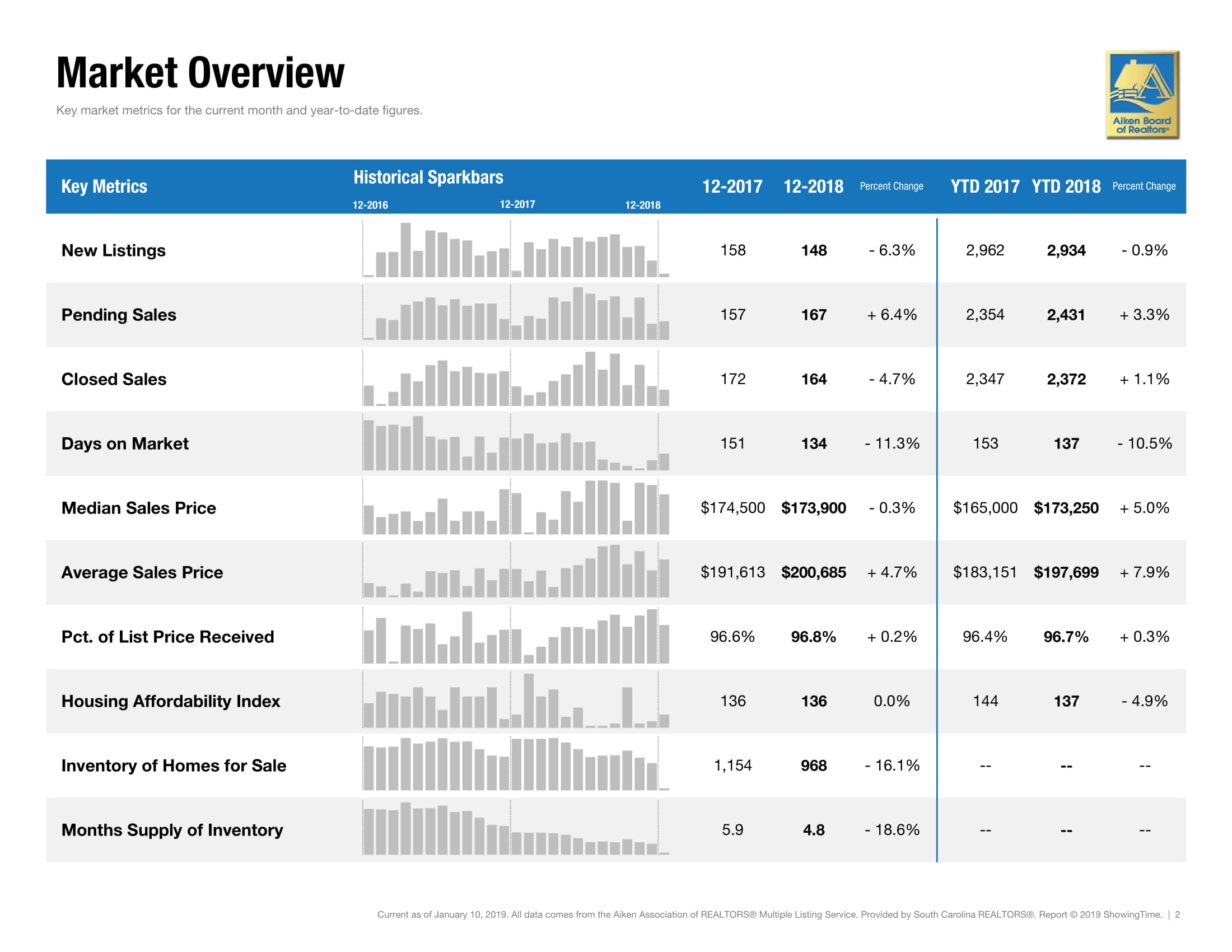 Oh, the Irony
During the recession, sellers were desperate to sell and buyers were unenthusiastic, unwilling or unable to buy. Securing financing and getting homes to successfully appraise with no recent comps was challenging. Buyers with strong credit, or cash wielded all the power. Buyers were merciless in their negotiations; walking away if they didn't get exactly what they wanted. Many homes sat on the market for a long time. In January 2014, the average days on market was nearly 240. Compare that to 2018, where homes average 137 days on market before selling.
Today, unemployment is at lows not seen since 1969. The economy is growing. Jobs are being created. Wages are rising. Things are looking good. Buyers want to buy. So why is the housing market not booming? Inventory. Or lack of inventory, to be more precise. In 2014, the Aiken market had over 13 months of inventory, compared to 4.8 in December, 2018.
Homeowners are relatively comfortable at the moment. They are enjoying low interest rates, they can easily afford to pay the mortgage. They have jobs, and those jobs are paying better than before. Unless transferred for work, or they have a specific reason to sell, sellers are generally content to stay put. That means fewer and fewer homes are going on the market for sale. When they do, ready and able buyers are snatching them up as soon as possible. Prices would probably rise even higher, but buyers seem put off by a perceived lack of stability in the economy, and fear of over paying for a home. Perhaps memories of the recession are simply too fresh in the minds of buyers.
Also, we cannot forget that sellers also typically become buyers after their home sells. If there is no inventory, where are they going to go? What are the chances they will be able to find what they are looking for at the right price?
What's Next for Sellers?
If you are a seller, now is an excellent time to put your property on the market!
We recommend contacting us early in the process so we may start by finding you one or more homes that you would consider buying. That way, when your home goes under contract, you have a couple of alternatives lined up.
We're selling our inventory fast. We base our list price recommendations to sellers on a thorough market analysis, and make solid suggestions for how to optimally prepare your home before it hits the market to maximize your sales price.
To learn more about our process with sellers, click here.
How About Buyers?
As fewer homes come on the market and those that do sell more quickly, buyers must be organized and prepared or face losing their dream home to another buyer. Here's my advice to buyers:
Get pre-qualified before you start looking for homes. You need to know exactly what you can afford and what steps you need to take prior to getting your heart set on a property. Talk with your agent about recommendations for lenders. Contact more than one to see who has the best terms, and which lender feels like a good fit for you.
Choose a real estate agent who is responsive. The most frustrating thing for a buyer is finding the perfect property, then having to hound their agent to show it to them. One of the reasons we like the team approach is because of availability. No one can be available all the time, but when there are four agents on a team, there is always someone who can pick up the ball and run with it.
Choose a real estate agent who knows the market. When you describe the home you're looking for, that agent should be able to save everyone a lot of time by narrowing down the search based on their knowledge of the market, and showing you the homes that fit your needs best.
Contact us to help you in the process of navigating the buying or selling process in Aiken. We'd love to help you live your Best Life!