Property of the Week – 325 Bissell Road
For many years I lived about 5 minutes from the center of Aiken in the Highland Park area. Located west of town, sandwiched between the Hitchcock Woods and the Aiken Golf Club – Highland Park is very desirable. Convenient to downtown, with a fabulous tree canopy and winding roads, it's one of my favorite areas of Aiken. On my drive home, I always enjoyed passing one place in particular, a very elegant, stately property, well situated with views of multiple fairways and greens of the Aiken Golf Course.

Outstanding Features

This newly listed home was built in 1998 by Mose Kaufman, of Kaufman Construction. A native of Ohio Amish country, Mose Kaufman founded his company in South Carolina in 1981. With a brick and stone facade covered in creeping fig, this home has an abundance of character, and a setting that will make golf aficionados' heart sing.
The interior is spacious, at nearly 4500 square feet. Reclaimed heart pine floors, barrel type vaulted ceilings, and an incredibly gorgeous kitchen are stand out features.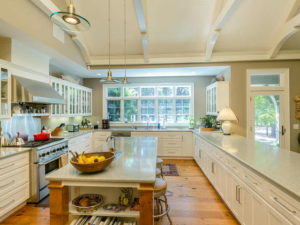 Listing Info
Diane Miniard with Meybohm Realtors – Southside is the listing agent.
The property is offered for $1,200,000.
For more information, please click here.