Aiken's Crown Jewel
The Hitchcock Woods
In the center of the City of Aiken lies one of the largest urban forests in the United States. Encompassing nearly 2100 acres, The Hitchcock Woods may be the largest privately owned forest in the country. What does this mean to you? Well…if you are someone who likes to walk, hike or run, the Woods are for you.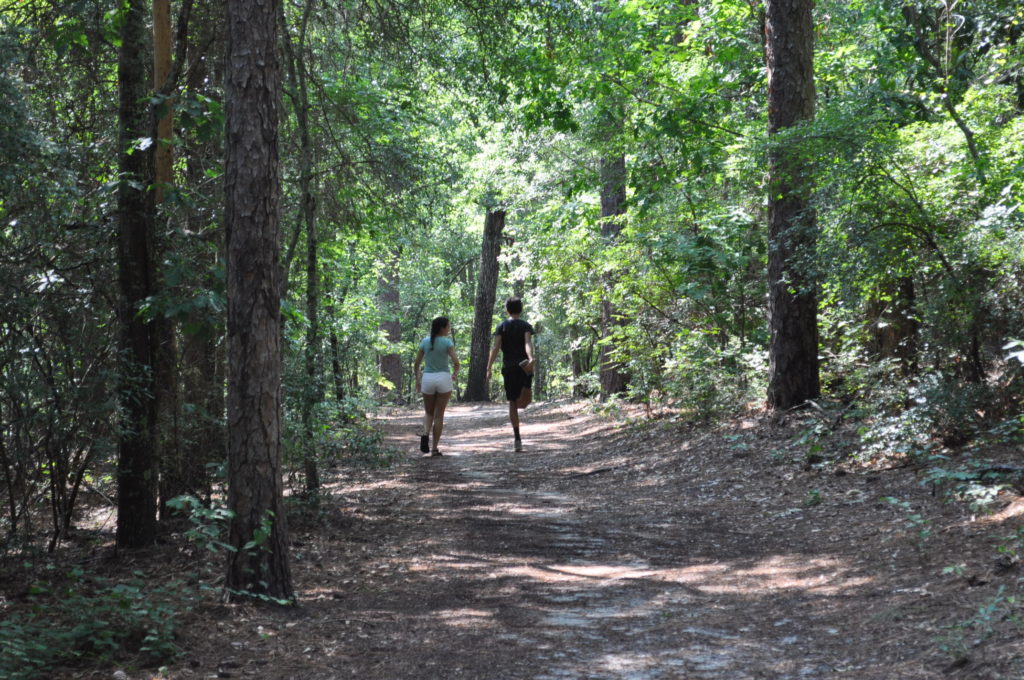 Finding your Way Around
Over 65 miles of trails meander through the Woods. There are seven different entrances, all with map boxes. Pick up a map…you will probably need it! It's fun to explore different trails each time.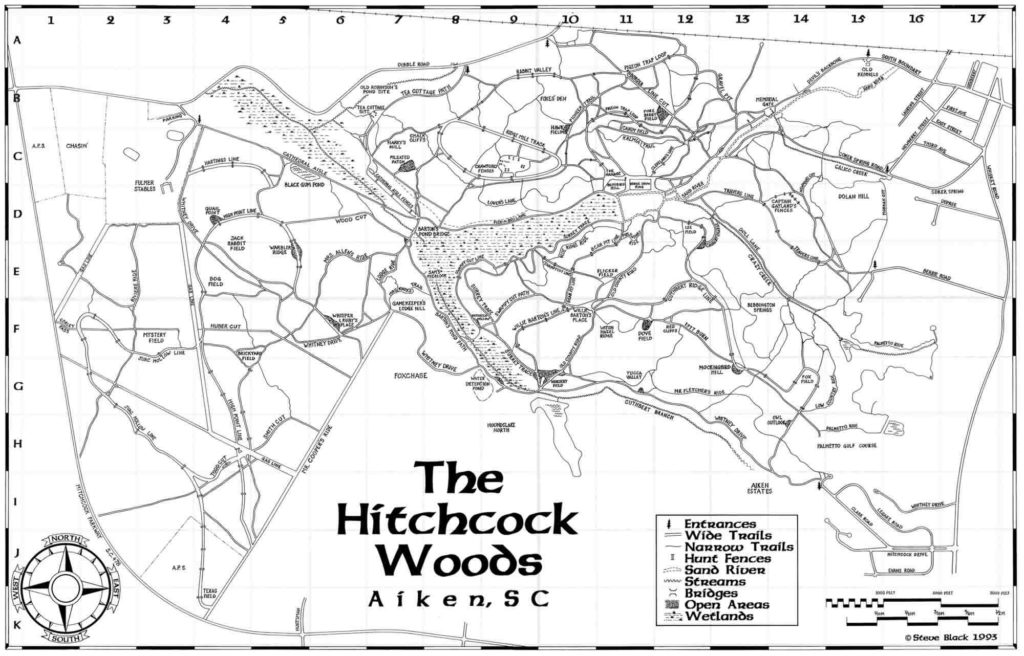 Dogs and Sand River
Well behaved dogs are allowed (even off leash!) so if you're searching for a place to take your canine companion for his daily exercise, look no further. The Woods is made up of a vastly diverse terrain; steep hills, open flat areas, chalk cliffs, upland bogs, and ponds. There is even an ephemeral stream (meaning that the water runs through it only during and shortly after rain) named Sand River. The sign below warns of the danger of quicksand at Sand River. Local folklore dictated that if someone else's footprints were visible, it was safe to cross. If no prints were visible, you can bet I wasn't taking any chances!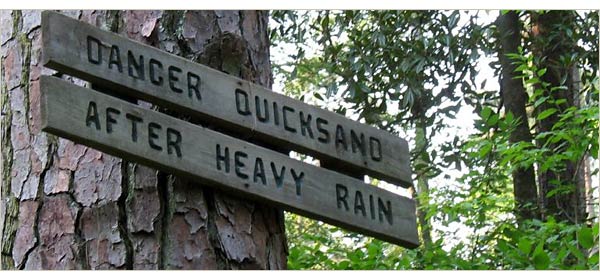 Maintenance of The Hitchcock Woods
The Hitchcock Woods Foundation is committed to stewardship of the Hitchcock Woods through various methods including prescribed burning, invasive species control, trail maintenance and timber management. The maintenance staff, including Woods Superintendent Bennett Tucker and Mike Grabowski do an outstanding job. When I used to ride multiple horses in the Woods each day, I was constantly amazed by the speed at which fallen logs were removed from the trail after a storm. The Axe Club regularly has volunteer work days in the Woods – building jumps, stuffing them with new greenery, trail maintenance, etc..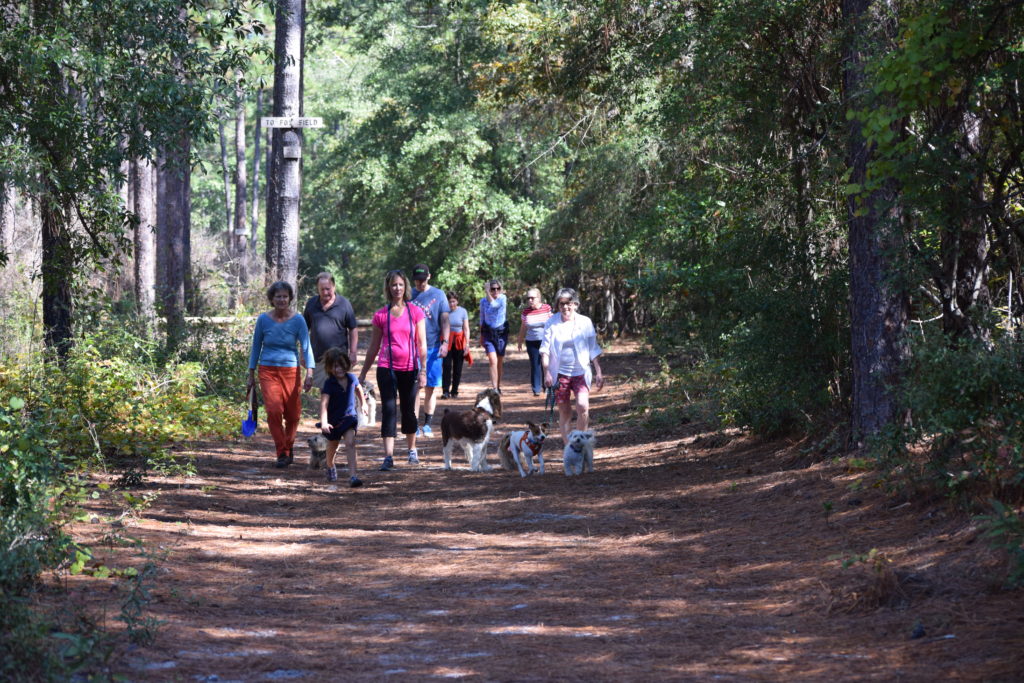 Aiken Horse Show
Every April, the Hitchcock Woods is host to a very special event, the Aiken Horse Show. The Aiken Horse Show is the signature program and fundraising event for the Hitchcock Woods Foundation, the 501c3 nonprofit organization that owns & manages Hitchcock Woods, and is funded through donor support. This horse show has run continuously for 102 years, and is a perennial favorite for residents and visitors alike. This is old school horse showing all the way – and a wonderful opportunity to go back to a simpler time. Spectators may have lunch ringside under the tent, or tailgate on the rail. Stunning horses and their riders perform against a fabulous backdrop of blooming dogwoods and pine trees.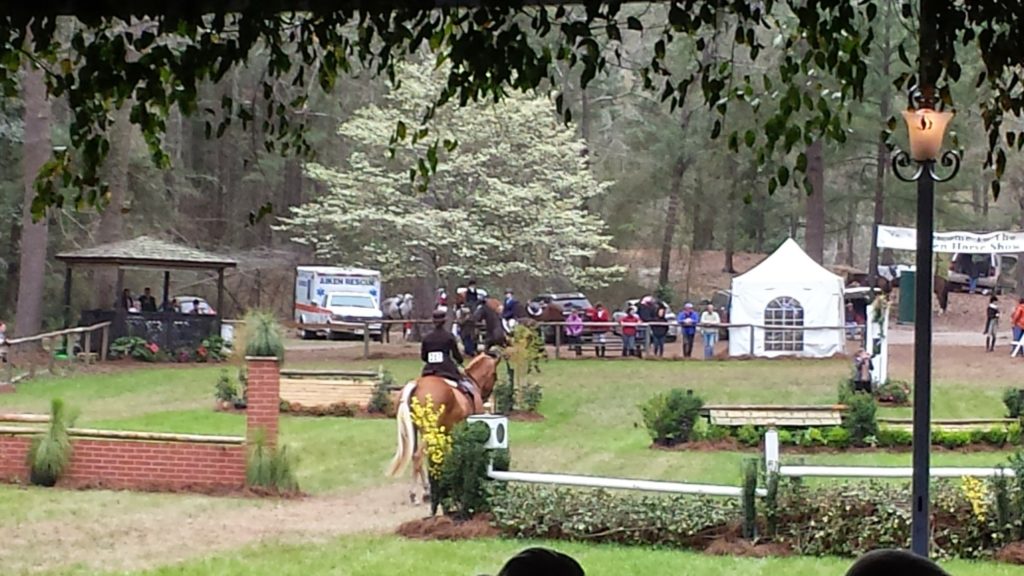 Forest Bathing
The Hitchcock Woods is also an ideal setting for the Japanese practice of "forest bathing" or Shinrin-yoku. This is not exercise, or hiking, or jogging. It is simply being in nature, connecting with it through our senses of sight, hearing, taste, smell and touch. Shinrin-yoku is like a bridge. By opening our senses, it bridges the gap between us and the natural world. Forest bathing has been scientifically shown to increase immunity, decrease the risk of cancer and help you to recover from illness faster.
At the End of the Day
Whether you forest bathe, walk, run, exercise your dog, volunteer or spectate…there's something for everyone! Take advantage of this gem in the center of Aiken today. You'll be pleased you did.