The Magic of Aiken, SC
The Thompson Team Carolinas enjoys sharing our love for the magic of Aiken, SC with buyers from all over the world. Aiken is a wonderful place, full of kind-hearted people, the beauty of nature, horses, golf and happy, smiling faces. Watch the video below to see some of what makes Aiken special.
Thompson Team Carolinas
As long term residents and experts on Aiken, the Thompson Team Carolinas is excited to show you why Aiken, SC is considered one of the best small towns in the US. Read more about it here. You've heard the buzz…come see for yourself! Active retirees, horse people, families, young professionals…Aiken is an amazing place to live, and we're the team to get you here. Our experienced group of agents receives glowing reviews from clients who have decided to live their best lives in Aiken.
Best Life Aiken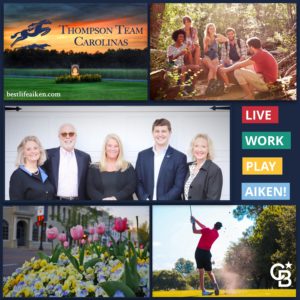 Don't wait – – contact us today and we'll show you the magic of Aiken, SC. If you'd like to see more photos and information about Aiken, follow us on Facebook or on Instagram at Best Life Aiken or Thompson Team Carolinas.
Tell us what makes Aiken special to you in the comments section below.
Cheers!