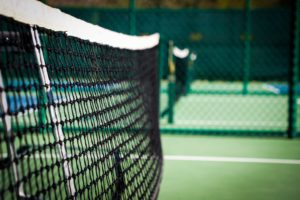 My husband and I recently stayed at a resort with two pickleball courts. Though we've both played tennis in the past, we had never seen a pickleball, nor did we know anything about the game. We decided to buy a starter set of paddles and balls and give the game a try.
The first day, we jumped on the court with no clue about the rules. We simply hit balls, and played around a bit. The next day, we happened to arrive on the courts while three couples were taking turns playing on the second court. They kindly offered to let us join them, and when we explained that we didn't even know the rules, they graciously offered to teach us. We accepted gratefully, and in no time, we were having a blast. We continued playing with our new friends every day, swapping out players after every game, learning as much as we could about the pickleball.
We're hooked! Pickleball is a fantastic game suitable for all ages, skill levels, and athletic ability. You can't judge a book by its cover in this game – some of the best players are smarter, and have better ball placement than their more athletic counterparts.
Since it's now on my radar screen, I began researching the pickleball scene in Aiken. It's a very popular sport here, and compared to other areas I've looked at, there are lots of opportunities to play. Private clubs, city parks, indoors and out. Below, you'll find information and links for locations.
Odell Weeks Activity Center
Home to the Aiken Pickledillys, the Odell Weeks Activity Center at 1700 Whiskey Road in Aiken is the focal point for pickleball in the area. With 6 indoor courts and 4 lighted outdoor courts, there are three types of play spread throughout the available times each day. These include drop-in play with all levels mixing together, drop-in play with courts designated by skill level, and court reservation play. Lessons and clinics are available and tournaments are regularly scheduled. More information may be found by visiting the Aiken Pickledilly's website.
Gregg Park Civic Center
Gregg Park Civic Center is a beautiful air-conditioned facility located at 119 Trolley Lane Road, Graniteville, SC, just five miles from downtown Aiken. This facility has six indoor pickleball courts. If you're not a member, the guest fee is $10.00 per visit. Individual adult membership is $65 per year. For senior citizens (65 & up) the annual fee is $20. For more information and to make reservations, visit the Aiken Pickledillys site.
Aiken YMCA
The Aiken YMCA has a comprehensive pickleball program. Offering open play, ladder league, After Hours, round robins, clinics, private lessons, Zero-Zero-Fit (pickleball fitness class), social activities and more! If learning to play is in your future, their Pickleball Fundamentals class is perfect. Aiken YMCA Pickleball program is for ages 8+. The Aiken YMCA is located at 621 Trolley Line Road in Graniteville, SC.
The Reserve Club
The Reserve Club is a private club for members and their guests. With three designated courts lit for night play and over 60 active players, pickleball is a big deal at the Reserve Club. There are year-round social events, social open play days, drill sessions, lessons, rating clinics and always someone looking for a game. Learn more about the Reserve Club and Woodside Plantation here.
Eustis Park
City of Aiken's Eustis Park has four shaded, outdoor pickleball courts, with permanent nets. Learn more about Eustis Park here. Play at Eustis park is free!
Houndslake Country Club
Houndslake has three recently installed pickleball courts. These courts are open to members and non-members for a fee. The pickleball courts will be available for play based upon the honor system. Cost is $5 per person per 2-hours play. No cost to Houndslake Country Club Full and Tennis Level Members. Schedule is as follows: 10 AM-12 NOON, 12-2 PM, 2-4 PM, 4-6 PM – Round-Robin play at all levels and all combinations (men, women, mixed). 6 PM + by court reservation only. Houndslake has lights for night play. If you have any questions and/or need additional information, contact Jerry Clements at jacgolfer@live.com. To learn more about living in Houndslake, click here.
Smith-Hazel – City of Aiken Recreation Center
Smith-Hazel, a City of Aiken Recreation Center has three indoor courts for pickleball available from 1:00 – 3:00 pm on Wednesdays and Thursdays. There is one court for beginners, one for intermediate players, and one for advanced players. Smith-Hazel is located at 400 Kershaw St NE, in downtown Aiken.
First Presbyterian Church
The First Presbyterian Church, located at 224 Barnwell Avenue, NW in downtown Aiken, has three indoor courts. Play is $2 per person per session.
First Baptist Church Pickleball Program
The First Baptist Church, located at 120 Chesterfield St N, in downtown Aiken, is offering drop-in pickleball play from 2 – 5 pm, Mondays and Fridays. They have two courts located in their main gymnasium. Play is $2 per player per session.
Kalmia Hills – City of Aiken Park
There are two courts available (multi-purpose) at Kalmia Hills Park in the Westcliff neighborhood at 3311 Summit Drive. These two courts are superimposed on the two tennis courts. The height of the net (34 " in the center) for pickleball may be achieved by sliding the strap in the middle of the tennis net to the right or left until the desired height is achieved. There are no lights at this park so play is during daylight only. Play here is free.
Pickleball for All
As you can see, there are lots of opportunities, and places to play pickleball in Aiken, no matter your skill level. Most programs are currently on hold, but we expect them to re-open very soon. Keep an eye on the Aiken Pickledilly's site for the most up to date information on pickleball in Aiken.
If you know of another court that's not been mentioned here, let me know in the comments. If you are a coach offering lessons or clinics, feel free to leave that information in the comments section as well.
Living our Best Life definitely involves pickleball now… big thanks to Phyllis, Mike, June, Gene, Lori and Ric for being such good teachers and even better friends. Cheers!